This instrumental arrangement will be one of the most unique and inspirational you have ever heard! Throughout the scriptures, the harp was a significant stringed instrument that brought mental relief, refreshing, and joy to the listener. The harp is the music of heaven, angels, and the 24 elders. On this collection of songs, Larry Bean and other gifted musicians use the sounds of the harp, along with beautiful orchestrated music, to present an inspiring and uplifting musical compilation. Enjoy the music of heaven!  Available on CD or Digital Download

Juanita Bava Stone Memorial
View the livestream memorial service for Sister Juanita Bava Stone who went home to be with the Lord on August 24th, 2021.
Download The PSTV App
Get the latest Manna-Fest Episodes or watch the recent Warrior-Fest on Perry Stone TV. Download the PSTV App today on Android, Apple IOS, Fire TV and Roku. You'll be glad you did!

Our ministry recently adopted a large olive grove in the Galilee region of Israel. This is in order to help preserve the precious olive trees and use oil from the grove to produce special anointing oil based upon the Biblical patterns found in Exodus.

For many people, to quit their job to attend a four-year Bible college is now impossible. After seven years of researching and compiling detailed information on each book of the Bible and their verses, people are saying it is like attending a Bible college.
Secrets of the 3rd Heaven Pkg
This offer includes Perry's book, Secrets of the Third Heaven and 2-CD album, Standing at the Bema. Most interesting teaching on the Third Heaven and the Bema offered by the ministry.

Have you ever had a dream or vision that was so vivid it remained with you for days? It is possible that your dream had a spiritual connotation and your vision was a message from God. This is by far Perry's favorite book that he's ever written. 

You will have a clear and concise understanding of the future as Perry takes key parts of the end-time visions and puts the pieces together in this 2-DVD set containing four hours of teaching. Taught from the studio, graphic editors masterfully illustrate the teaching using maps, charts, Scriptures, and other visual aids. Two years in the making, Unsealing the Daniel Cipher is now ready for your viewing!

On this DVD Perry will explain how the serpent talked in Eden, where Cain got his wife, how Lot's wife could have turned to salt, and what actually happened to Jonah in the fish! He will also show pictures that demonstrate how Israel proves God exists, and how we can know that what we believe is truth! Every family needs to watch this DVD, preached at OCI by Perry Stone.

Israel & the Battle of Gog & Magog This special DVD was taped on location in Israel, this DVD explains the coming war of Gog & Magog. This infamous battle is alluded to in Ezekiel 38 and 39. This is the only war that Muslims, Jews, and Christians all agree will occur in the last days.

Perry shows how Satan, being a Cherub, has attempted to corrupt these images and at the same time demonstrates these four faces as characteristics found in the lives of Christians who are following Christ. You will glean amazing insight from this 70-minute study and see why your life moves through various seasons – as revealed through the heavenly beings that stand in God's presence in the heavenly temple.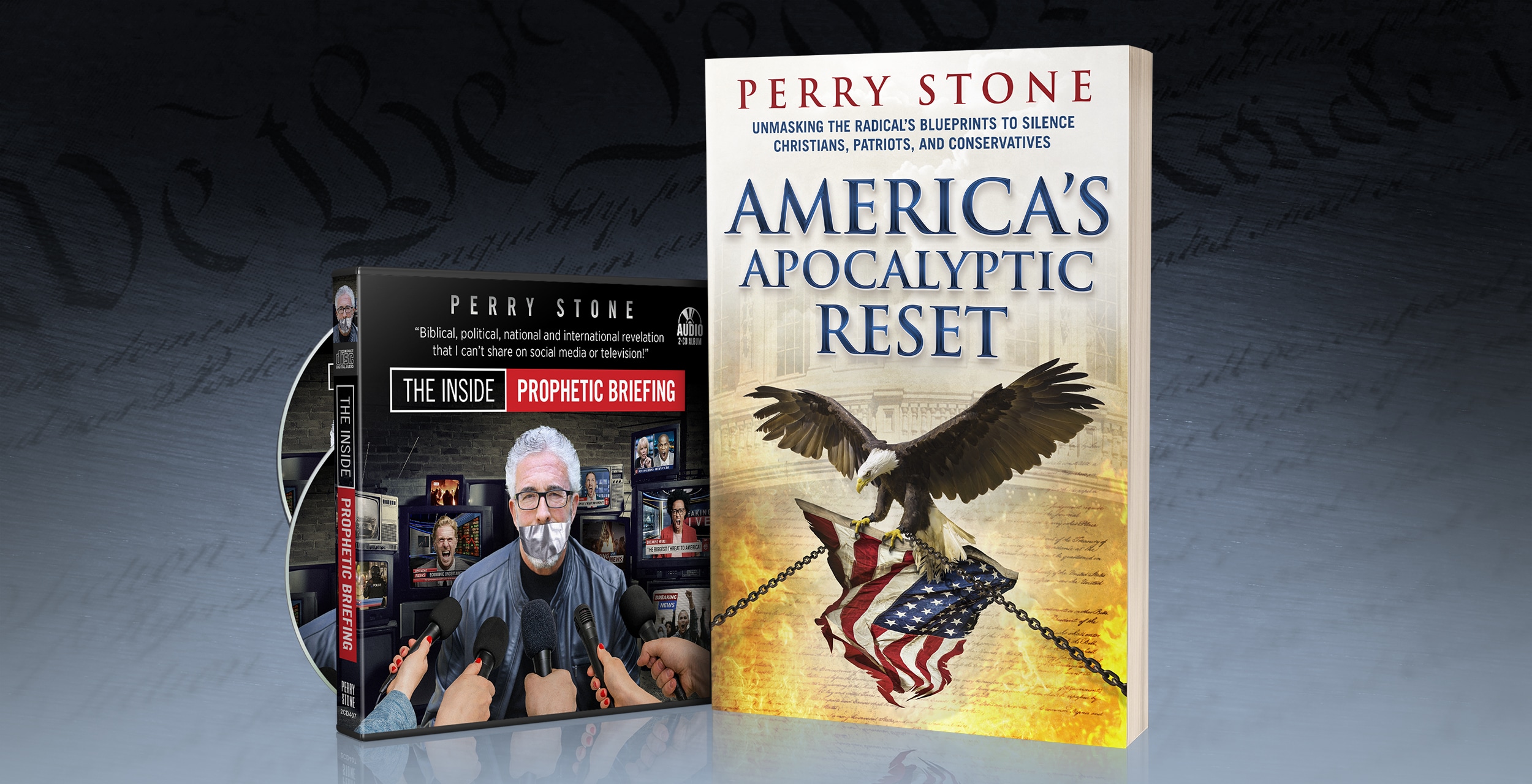 Manna-fest July 2021 Offer APR-140  
" America's Prophetic Reset" is now available!
Included in this offer is Perry's brand new book: "America's Apocalyptic Reset" along with a new 2-CD album, "The Inside Prophetic Briefing". 
This book is being called the most important prophetic document in print in recent years! Several chapters are so "content-sensitive" that the material will not be placed on social media or on television.
The Latest Manna-Fest Episode
Previous Manna-Fest Offers